History of the Embassy
When Bangladesh declared independence in 1971, Thailand recognized Bangladesh as a sovereign state on 16 February 1972 before establishing diplomatic relations on 5 October 1972. The opening of the Royal Thai Embassy in Dhaka and the appointment of the first ambassador followed in 1973.
The first Thai ambassador to Bangladesh was Colonel Surachit Khanithanon who was previously the Consul-General to Kengtung in Myanmar. He presented the Letters of Credence on 10 August 1973. At that time, the embassy used room number 521 at Purbani International Hotel as the temporary office due to its convenient location near several Bangladeshi ministries and offices including the Ministry of Foreign Affairs.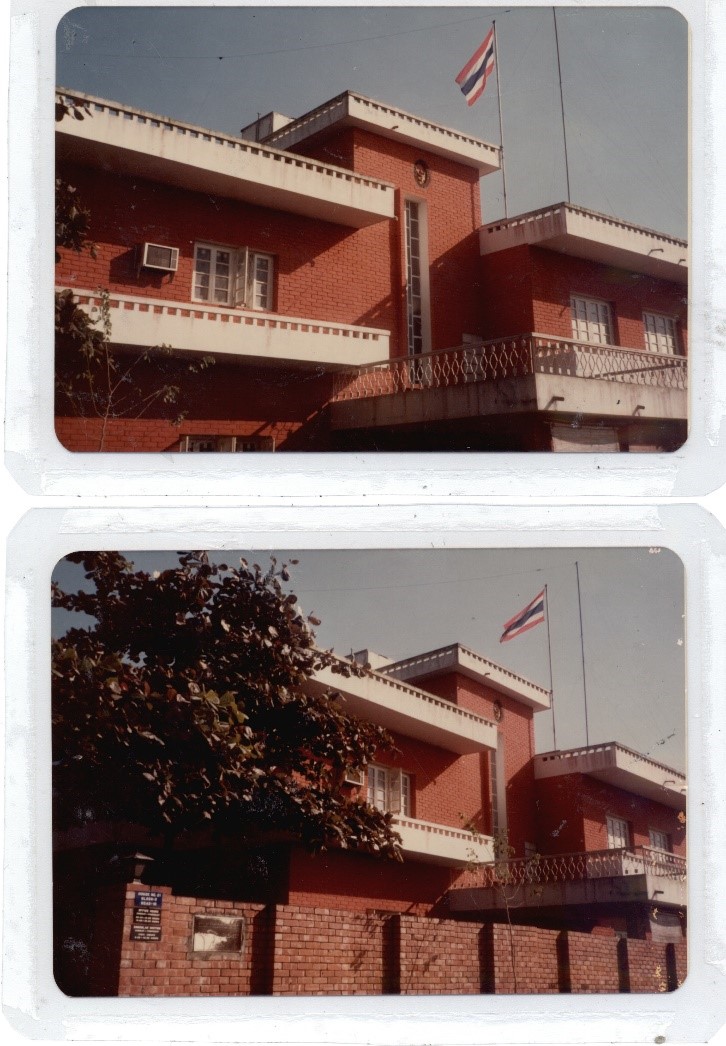 The chancery from 1976 to around 1986. This photo was taken in 1985.
The first premise of the chancery was a one-storey house in Gulshan. It is now demolished and became an office building near DCC Market. From 8 September 1976, the embassy moved to house number 21, Block-B on Road 16 in Banani. It was rented until around 1986 which by that time was in deteriorating condition and was complained by neighbours that the number of visa applicants caused unnecessary crowd and traffic in the area.
Afterwards, the embassy relocated to three more houses. The first one was on Road 62 in Gulshan, the second one was on the corner of Roads 58 and 59, and the third one was house number 14 on Road 11 in Baridhara.
As for the residence, three houses on Road 18, Road 62 and Road 71 were rented successively. However, the problem that the embassy encountered was the increase in rent due to rising demand as there were many embassies and international organisations looking for premises in Gulshan and Banani.
In 1979, the embassy rented two plots of land totaling four bighas from the Dhaka Improvement Trust which later became Rajdhani Unnayun Kartri Pakha (Rajuk). The rent was paid in the same year and a fence was added around the land. However, the land lease agreement was sent to the Thai side some years later in 1982. The negotiations on the 99-year land lease agreement lasted more than a decade before it was signed on 25 June 1998.
During that time, the embassy used the plot of land as a recreation area for the Thai community such as for playing tennis and picnicking.
In fiscal years 2002 – 2004, the Ministry of Foreign Affairs approved over 118 million baht (3.5 million USD) for the construction and interior design of the new chancery and ambassador's residence.
The chancery has two storeys with 990.92 square metres of space while the residence has 1,639.04 square metres of space. Chujak Company was responsible for the construction and the interior design was done by Joe and Tinnakorn Company. These new buildings were inaugurated on 6 August 2006 by H.E. Mr.Kantathi Suphamongkhon, Foreign Minister of Thailand and H.E. Mr. Mohammad Morshed Khan, Foreign Minister of Bangladesh.
Sources of information
E. Mr. Vichai Vannasin, former Ambassador of Thailand to Bangladesh
Shahjahan Reza, Embassy local staff
Mohammad Rohisuddin, Embassy local staff
Archive of the Ministry of Foreign Affairs of Thailand
*******************************************